Battle of Brunanburh at Burnley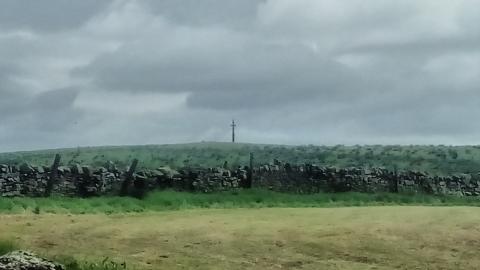 On the hills overlooking Nelson is an odd-looking monument called Walton's Spire. Although the cross at the top was added by a nineteenth century clergyman, the shaft and base are likely to be Saxon, or older. John Clayton, a Barrowford-based historian, suggests it is a battle monument. He thinks that the battle of Brunanburh may have been fought here. It was one of the most important battles in our history, fought between King Athelstan of the English against Oluf king of Dublin (Viking), Constantine, the king of Scotland and Owen, king of Strathclyde in 937. The Anglo Saxon Chronicle states "never yet as many people killed before this with sword's edge ... since from the east Angles and Saxons came up over the broad sea".
The site may have been in Yorkshire, the Wirral or somewhere up in Cumbria. I favour Burnley, whose river Brun, from which the town derives its name, is crying out to be associated with the battle. There are even parts of the town called Daneshouse and Saxifield. 
The battle helped determine the boundaries and relationships between three of our home countries within our United Kingdom, and they felt the need to erect a huge monolith to commemorate it. Who would have thought that Nelson and Burnley may have played so pivotal a role in our nation's history?
One day, another great battle will fought, at Har Megiddo, between Christ and all that is evil. Its outcome shall determine much, and will settle Satan's usurpation for ever. The victory will not be commemorated by a stone shaft, but by the peaceful reign of Messiah forever afterwards. 
The monument lies on private farmland and there are no public footpaths approaching it, though it may be seen from the road in three different directions. When I was younger, I climbed over the wall to examine it; in my dotage I show more respect for private property/can't be bothered dirtying my clothes, hence the long shots of the monument.