Christopher's New Game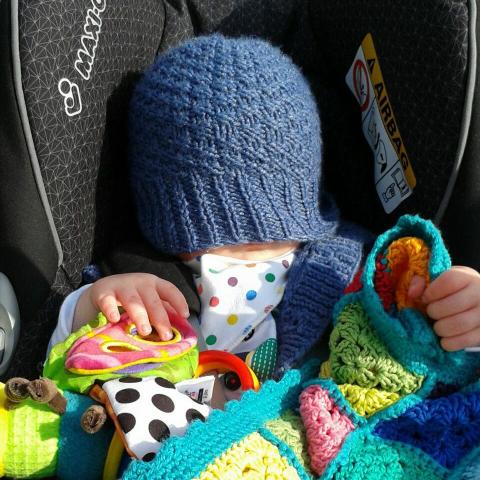 Where Is He?
Christopher has invented a new kind of game. It doesn't need sticks or a stream, and it isn't anything to do with Master Christopher Robin Milne. No, this one comes courtesy of Christopher Edward.
Here's how it works. You put young Christopher in his pram, or into his seat in the car. You take a hat, preferably a woolly one, and place it on his head. As you do so, you say "Hats on!" Then, Christopher puts his hands up to his hat, and pulls it down over his eyes.
Straight away, one or more of the adult players must say "Where's Christopher?" in a voice of mild surprise. This is followed by expressions of increasing bewilderment: "Where's Christopher gone?" "I can't see him, can you?" "Where is he?"
After an interval, Christopher will push his hat up again, at which point the adults will exclaim "There he is! There he is!" Christopher will smile with delight, and the adults, if they have any heart at all, will do likewise. For Christopher, it's fun. For the adults, it's even more enjoyable. They've been able to see him all the time, even though he thought he had them fooled.
It's a good game, and it's his own invention.
What do you mean, "No, it isn't"?
You've seen it before? You've played something similar?
I bet you have. So have I. I don't remember whether I had a woolly hat when I was Christopher's age, but I've certainly tried to play this kind of game with God. It's a game which has a history - see Genesis, chapter 3; and, unlike Christopher's game, when it's over, it isn't any fun.
2 Chronicles 16.9 says: "For the eyes of the Lord run to and fro throughout the whole earth..." And yet, more times than I care to remember, I have tried to hide myself from Him. Why so? In order to do something which I knew was wrong - even if I wasn't willing to admit it at the time. I thought I could get away with it! I never did. Damage was done.
The writer of Proverbs gives us this timely warning: "Whoever conceals his transgressions will not prosper". (Proverbs 28.13) Sad to say, like young Christopher, I was only pulling the wool over my own eyes.
That text from Chronicles is incomplete. This is how it ends: "...to give strong support to those whose heart is blameless towards Him."
Rock Of Ages.
Augustus M. Toplady, 1740-1778.
Rock of Ages, cleft for me,
Let me hide myself in Thee;
Let the water and the blood,
From Thy riven side which flowed,
Be of sin the double cure,
Cleanse me from its guilt and pow'r.
(May I commend to you the full text of this hymn, and its history? You can find it on sermonaudio.com. Look down the left hand side, until you come to "Hymnal". It will be worth your while.)