Pastor ES Heron, a Faithful Man of God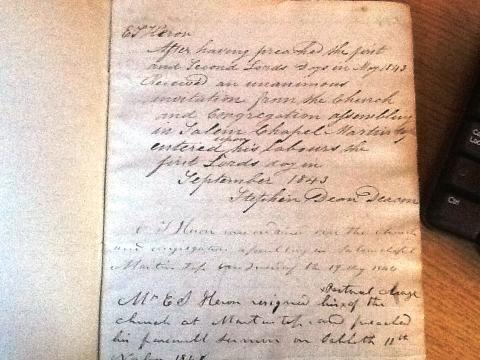 Mr Heron was minister in the church back in the 1840s, and the old Minute Book mentions his coming, ordination, departure and return 22 years later. It's clear from these refererences to him that he was a man who faithfully preached the gospel and a man who loved the people of Martin Top.
After having preached the first and second Lord's days in May 1843 received an [sic] unanimous invitation from the church and congregation assembling in Salem Chapel Martin Top entered upon his labours the first Lord's Day in September 1843. Stephen Dean, Deacon.
ES Heron was ordained over the church and congregation assembling in Salem Chapel Martin Top Sunday 19th may 1844.
Mr ES Heron resigned his pastoral charge of the church at Martin Top and preached his farewell sermon on Sabbath 11th November 1848.
He returned, several decades later, writing in his own hand:
Though I left Martin Top in November 1848 I have visited my ever dear and valued friends many times up to the present date (April 1870) and preached to them with great pleasure the glorious gospel of the grace of God. This has probably been my last visit. May God give them grace, mercy and peace and greatly bless and prosper them all [4 words unreadable]. Rev ES Heron
(It either ends in 'Rev ES Heron', or it is 'Rev ____ chapter and verse, ES Heron')
From what little I know, I can deduce that this man was a real pastor:
1) Though he had left the church, he had returned several times. He cared for them as people.
2) He preached about the 'glorious grace of God', the gospel. He did not preach good works, or morality or sweetness, but the age-old gospel. He cared for their souls.
3) He knew he would not return after 1870, perhaps due to age or health, yet he prayed for their blessing and prosperity. He cared for their futures.
Here is a role model for all who would pastor the Lord's people.